Manny Knows Mission
Meet Manny, a lifetime Mission resident who loves his community. Having lived in Mission his entire life, Manny is quick to recognize and showcase how caring and welcoming our community really is. And that is how his slogan came about, "Manny knows Mission".
"Mission has the capability to draw in people and entice them to move to our small community." Manny explains with much pride and admiration in his voice. "It makes it easy and fun to be a real estate agent here."
No one can deny it, Mission is surrounded by awe-inspiring beauty. A multitude of freshwater lakes, breathtaking vistas, cascading waterfalls, and majestic mountains embellish our backyard.
Today we set out to discover what it is, exactly, that Manny knows and loves about Mission. He agreed to take us on a tour of his beloved little town and really sell us on this fabulous community. With someone so passionate at the helm, we are destined to be shown greatness.
Mission boasts an astonishing total of 29 parks and each one of them offers something unique to our community. Our parks are the outdoor living rooms of Mission. There is one slice of nature which stands out above the rest, according to Manny.
He is talking about Fraser River Heritage Park. This park offers breathtaking views of the valley. Numerous walks through fields, forest and gardens makes it ideal for the perfect afternoon stroll.
Community seems to flourish in this park and it's no wonder it's a local favorite.
After leaving Fraser River Heritage Park, we made our way to Cascade Falls, a journey that took us through the backroads of Mission. This route revealed some of the undiscovered, yet picturesque beauty of the Fraser Valley countryside. The winding roads, forest groves and rolling farmlands presented an almost idyllic, postcard-like scene at every turn.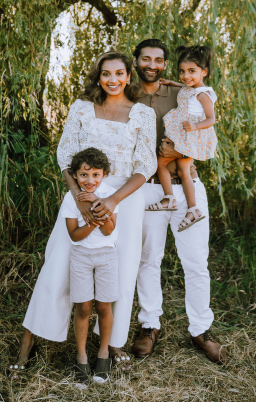 Cascade Falls was nothing short of grandiose. This impressive natural wonder is stupendous in stature. A short incline through a wooded trail led us up to both a viewing platform, and a suspension bridge which scanned the Cascade canyon.
From there, we made our way back into the heart of the community. Historical Downtown Mission. This unique downtown core represents everything that is hip and modern, while still maintaining the sentiment and nostalgia of days gone by. One needn't look much further than our very own Post Office, to see the priority Mission places on preserving our historical architecture. Manny was quick to point out that his office was directly across the street.
"There is no place in Mission I would rather have my office than downtown" he admits. "I'm all about community and Downtown Mission is the heart and soul of it all."
We spent a few hours browsing the shops and sampling the tasty treats of local downtown restaurants. Mission still has that small-town feel, while still having the convenience of being close to the city.
Feeling slightly more adventurous, more thrill seeking… and ready to experience the thunder of Mission, we drove down to the Mission Racetrack. Manny confessed that this spectator indulgence is exhilarating, and he highly recommended a visit.
Contrary to popular belief, hot rods, custom cars, street racing and drag racing are not recent phenomenon. Back in the late 1940′s and early 50′s Street Rods and Customs were just as popular as they are now. This raceway is a staple in our community, as it has been around since the 1960's. The facility features a ¼ mile drag strip, a 2 km 9-turn road course, and a 3 km motocross track.
And to tell you the truth?
Manny is right. It's absolutely exhilarating. The racetrack certainly set our hearts racing.
Needing a little calming after such excitement, we decided it was a lovely afternoon for a peaceful stroll through the Silverdale Creek Wetlands. These wetlands offer a short boardwalk trail through the estuary and is very popular with bird watchers and nature lovers.
"I take my family here all the time," Manny says with a smile. "It's our happy place."
The day was packed full of Mission gems and certainly there were more Manny wanted to show us.
It was getting late… we had to get going and Manny had a date at his very favorite Mission location. His best friend's gym… the Fitness Lab.